A Communication from the Chairman of the PEC, The Moravian Church — EWI Province
---
VISION STATEMENT: A Church - Transformed, United, Victorious in Christ

MISSION STATEMENT: By the grace of God, we seek to be faithful to our Lord Jesus Christ; without distinction, we use all that we possess to call all peoples to the truth of the Gospel through worship, evangelism, discipleship and service

But ye shall receive power, after that the Holy ye shall be witnesses unto me both Ghost is come upon you: and in Jerusalem, and in all Judea, and in Samaria, and unto the uttermost part of the earth". Acts 1 : 8

---
The Provincial Theme 2008 — BLESSED TO BLESS
The Thematic focus is, A posture of Faithfulness and fruitfulness—Redirecting power. The Foundation Texts: John 15: 4-8; Acts 1:8; Romans 12; Genesis 12; 1Chronicles 4:9-10.

As we enter into the year 2008, we enter being mindful of God's faithfulness. God has been faithful in many ways. He protected us even when we abandoned his covering. He provided for us even when we failed to give to Him. He kept His promises to us even when we forgot and abandoned our promise to Him. He prepared a table for us even in the presence of our enemies. He pleaded our cause, even when we failed to serve Him. He preserved us amidst the challenges and vicissitudes of life. We stand not in our own strength, but in the strength of God, who is our Maker, Creator and Sustainer.

Without a doubt, God has been faithful , now he challenges us to be fruitful in His Kingdom. Fruitfulness is the hallmark of every Christian. When one has been planted or when ones life has been transformed by the power of the Holy Spirit, he or she is expected to bear fruits. John puts it best when he says, "Abide in me, and I in you. As the branch cannot bear fruit of itself, except it abide in the vine; no more can ye, except ye abide in me". John 15:4 Abiding in Christ challenges us to be faithful. It challenges us to cement our relationship firmly in Christ Jesus. If that is done, then our lives will bear fruits abundantly and God would be glorified and many would be blessed. The challenge for us as a Moravian Church is to remain Faithful, then we will become Fruitful. Many will come running for living waters that only Jesus can supply. Bloom where you are planted.


PEC NEWS
Appointment
The PEC has decided to appoint The Rev. Nigel Daniel as Acting Superintendent of the Antigua Conference with effect from November 01, 2007—April 30, 2008. We thank him for accepting the position and pray God's blessings upon you.


Congratulations
The PEC extends words of congratulations to the Rev. Patmore smith and Miss. Jovanca Lewis who were united in marriage on December 27, 2007 at the All Saints Anglican Church in Port of Spain, Trinidad.

The PEC also extends words of congratulations to the Rev. Hilton Joseph and Miss. Sharon McCardy who were united in Marriage on December 29, 2007 at the Montgomery Moravian Church in Tobago.
We wish them God's blessings as they embark upon this new journey of life.
A large contingent from Antigua and some other islands attended both weddings.


It's a Boy
The PEC shares the good news of the birth of MIGUEL ELNATHAN, the son of The Rev. Kirk and Mrs. Nicole Barker. He was born at 3:05 a.m. on the December 15, 2007.

We wish the Barker's God's blessings as they begin this new phase on their journey.


Condolence
We express condolence to the Rev, Dr. Dion Christopher and Family on the passing of his Mother Sis. Hillary Christopher in St. Croix on December 17, 2007. A service of thanksgiving was held at the Friedensberg Moravian Church in St. Croix on December 27, 2007, while the funeral service was held at the Spring Gardens Moravian Church in Antigua on December 31, 2007 at 2:00 pm.

Kindly continue to bear Bro. Christopher and family in prayer.


PEC Meeting
The PEC met in Barbados during the period January 18—20, 2008. While in Barbados the PEC took the opportunity to meet with the Executive Board and the combined Joint Boards of all the congregations where a number of matters concerning the church, its growth, development and vision were discussed. The meeting was a blessing to all those who came and members expressed the view that it was something that they longed for. In addition the PEC met with the entire ministerial staff and shared lunch together.


Superintendents' Conference
The Annual Superintendents Conference took place in Barbados on the 21st and 22nd of January, 2008. During the period we took time to review the Ministry of the church in each conference and to chart the course for the way ahead. In addition, we sought to share solidarity with each other as we seek to lead God's Church. The PEC expresses heartfelt thanks to the Barbados Conference.


Consecration
We Invite your prayers and support for Rev. Lillette I. George who will be consecrated a Presbyter in the Moravian Church on Sunday February 17, 2008 at 5:00 p.m. at the Emmaus Moravian Church in St. John U.S.V.I.


Moravian 550 Cruise Photos

Cana Moravian Church Swetes



Cana Moravian Preschool Students





Cruisers at Cana





The Rev. Adrian Smith, Pastor of Cana Moravian Church and
Chairman of PEC The Rev. Dr. Cortroy Jarvis





Gracehill Moravian Church Liberta





Grace Hill Hosts Lunch





Grace Bay Moravian Church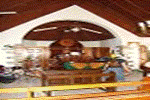 At the Entrance of Grace Bay Moravian Church,






Spring Gardens Moravian Church



Spring Gardens Moravian Pre School Students





Worshipping at Spring Gardens





Snack time at Spring Gardens Moravian





Bishop Hopeton Clennon and Rev. Dr. Cortroy Jarvis





Bishop Clennon and Deanna Hollenbach





Rev. Dr. Cortroy Jarvis leads tour of Dockyard


Tina and Chris Giesler
Visit to The Interpretation Centre
Left to Right Rev. E. Christopher, Bishop H. Clennon, Rev. c. Jarvis, Tour Guide, Bro. E. Barreiro, and Moravian Cruiser

Historical Picture of The Rev. William Gramley at Gracehill
Birthdays/Anniversaries
Birthday Greeting for November go out to:

Sis. Florence Isaac 7
Bro. Rowan Simmons 19
Bro. Ezra Parris 21
Sis. Myrtle Miller 21
Sis. Geraldine Roberts 23
Sis. Joyce Walters 24


Birthday Greetings for December go out to:
Sis. Eloise Stephen 2
Bro. Alban St. Hill 2
Rev. Leon Matthias 8
Sis. Cicely Athill-Horsford 12
Bro. Hilton Joseph 18
Sis. Nasel Ephraim 18
Sis. Maureen Lewis 23
Bro. Matthew Crooks 25
Bro. Rudolph Holder 31


Anniversary Greetings for December go out to:
Bro. Cortroy & Sis. Pearline Jarvis 7
Bro Winston & Sis Karen Jones 13
Bro. Algernon & Sis. Denise Lewis 20
Bro. Errol & Sis Joycelyn Connor 22
Bro. Patrick Cadogan & Sis.
Nasel Ephraim 22
Bro. Samuel & Sis.Gwendolyn Jacobs 31


Birthday Greetings for January go out to:
Sis. Margaret John 4
Bro. Glenvil Gregory 8
Sis. Sonia Spencer 11
Bro. Ray Joseph 24
Sis. Andrea Lorde-Smith 29


---
Copyright 2008 The Moravian Church Eastern West Indies Province P.O. Box 504, Cashew Hill, St. John's, Antigua, Caribbean. Telephone: (268) 560-0185, Fax: (268) 462-0643, E-mail:
This email address is being protected from spambots. You need JavaScript enabled to view it.
Webmaster: This email address is being protected from spambots. You need JavaScript enabled to view it.